I love to entertain and host guests…either for an evening or weekend. When friends and family come to stay, I want to be sure they are comfy and cozy in their surroundings! Here are a few things to keep in mind or add to any guest room to create welcoming and comfortable space for guests to rest:
When guests come to stay at my home, I put fresh towels out and ready for them to use AND
A bottle of water for each guest, a bedside carafe set, or even a simple decanter and set of ball jars. It's a nice gesture for guests to be able to have a sip of water if they want one in the middle of the night!
A small bin, bucket or basket of "stuff that might have been forgotten" like extra toothbrushes, toothpaste, razors, band-aids, shampoo and conditioner samples…the Birchbox samples that I don't plan to use and extras from hotels make great additions to this!
It's nice to have at least two extra pillows and blankets that are easy for guests to access without having to go digging in your closets!
A trash can like this pretty one on Amazon…
NICE SHEETS! Don't skimp on threadcount…
Offer information, like this chic frame containing the wifi password: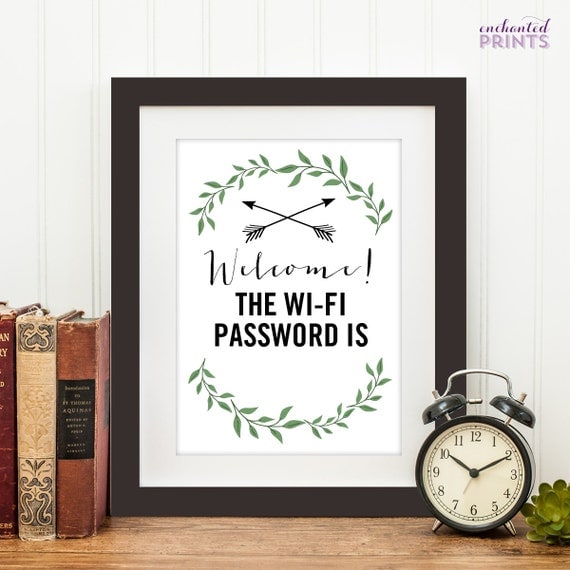 Something to read! If they aren't quite ready to go to bed or wake early and aren't ready to leave their room yet, it's nice to have a few magazines or books to look through.
…and in order to read (and not bump into things from the light switch to the bed), you'll need some decent bedside lighting like this pretty lamp:
Space to hang clothes… If your guest room closet can't be empty and waiting for hanging garments, there are plenty of options for pretty over-the-door hooks so guests can hang items for a few nights stay.
Somewhere to put their suitcase or overnight bag!
Finally, fresh flowers in a pretty vase say, "We're so glad you're here!"! (And smell good too!)
Happy Hosting!
Lauren is a Sr. Designer of Product Graphics for an international manufacturing company by day and a creativity crusader, designer, planner extraordinaire, artist and blogger in her "free" time. Follow her and The Olive Shoe on Twitter, Pinterest or Instagram! Please subscribe to receive emails, of course, come back and visit again soon!